A tribute to Erik Höglund (1932-1998)
This is to celebrate Erik Höglund. A true artist and a source of inspiration for many of todays painters and sculptors. Since passing away 20 years ago, his work continues to amaze, and amuse. The mold for the artwork Tribute was a gift from Erik to the Ståhl family, in the beginning of the 1980s. This project was made possible thanks to the kind cooperation of the Höglund family.
Erik first gained public recognition in his early twenties with an art exhibition at Lilla Galleriet in Stockholm. He was noted for his distinctive glass objects in brown and bottle green with air bubbles trapped in the glass. From then on, coloured glass with air bubbles became one of the Boda glassworks' signature products. Höglund's exhibition also provoked artistic debate because of his decision to exhibit glass utility goods alongside bronze sculptures. The art world of the time debated whether it was acceptable for art and artists to straddle the invisible but clear boundaries between applied art and fine art in a single exhibition, with the same artistry. For Höglund, there were no boundaries between applied and fine art. Throughout his life, he consistently expressed himself through a wide range of materials. He was a sculptor, painter and designer in equal measure. It has been said that everything he touched became beautiful. He has been described as the Swedish Picasso, the Boda revolutionary, a multidisciplinary artist and the Glass artist, but he was consistently Erik Höglund.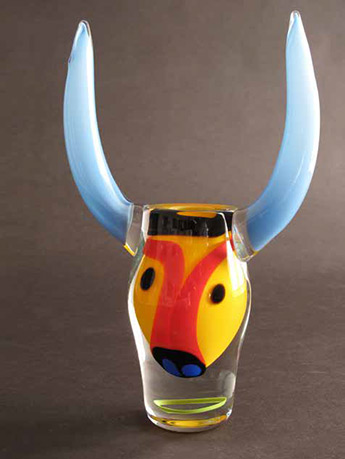 Höglund was born in Karlskrona in the Swedish province of Blekinge. On the brink of adolescence, he learned that he had been separated from his biological mother at birth. She became ill after his birth and was admitted to St. Lars mental hospital in Lund, where she died a few years later. This discovery had a profound effect on the young Erik. There were questions that remained unanswered throughout his life. During the same period, Erik was diagnosed with diabetes. Physically active up till then, he was forced to relinquish his dream of becoming a sports instructor. The doctors advised against strenuous exercise. This was when he developed a serious interest in drawing.
When Erik was 16, he moved with his family from Karlskrona to Stockholm, where he had been admitted to the University College of Arts, Crafts and Design (Konst- fack). It was exceptional for such a young candidate to be admitted. His long-term plan was to become a drawing teacher. However, he eventually transferred to the sculpture faculty to experiment with three-dimensional form.
Shortly before graduating, he began working at the Boda glassworks. A friend of his girlfriend at college had a relative who worked at Boda. The relative asked the girls if they were interested in becoming trainees at the glassworks after graduating from the ceramics course. The girls declined, but recommended Erik who accepted the o er despite the low monthly pay.
He must have found it inspiring on many levels to work in a factory environment. He probably also found it an enormous challenge to express himself through the medium of glass, a traditionally sophisticated and luxurious material.
When discussing his first experiences at Boda, he always mentioned Albin, a worker at the factory to whom, coincidentally, he was distantly related. Albin did various jobs at the glassworks. He had originally trained as a glass- blower, but may have lacked the necessary talent to pursue a career in that field. When the professional glassblowers had left for the day, Albin would spend time in the workshop blowing jars and pots to supplement his income. Albin brought Erik along, and it was on these occasions that Erik got a chance to work freely and experi- ment with glass. He experimented with various techniques, and even tried pressing potatoes into the molten glass. This is how the trapped air bubble technique was born at Boda.
To Erik, trapping the bubbles in the molten glass meant transferring an outside event into the object. It was a way of emphasising the third dimension so fundamental to sculpture. Another hallmark feature he developed with the same aim was the stamped motifs featuring fantasy figures and themes. He would stamp these motifs onto his glass products or attach them to forgings as hanging decorations. He also designed drinking glasses which were mould-blown around sculpted reliefs. So there is far more to Erik's multi-year career at Boda than air bubbles and coloured glass.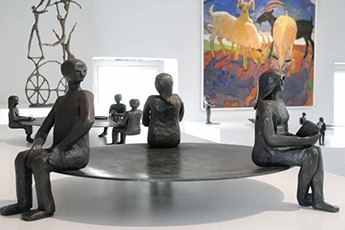 When Scandinavian Design toured the United States in the late 1950s, the American design press honed in on Höglund's engraving technique. He had developed a unique method that allowed him to work deep inside the molten glass and add hand-crafted motifs in his subtle, humorous style. This new engraving technique allowed striking low reliefs to be created deep inside the glass.
For almost twenty years, glass art and design was strongly associated with Erik Höglund and Boda both in and outside Sweden. In 1957 he won the Lunning Prize instituted by Frederik Lunning, owner of the New York agency for Georg Jensen. This prize was awarded to eminent Scandinavian designers from 1951 to 1970.
Buildings worldwide were decorated with Höglund's distinctive mural compositions made of cast glass blocks, many of which featured fantasy figures in strong relief. He is probably one of the Swedish artists who has created the most public artworks. These works span a diverse range of materials including glass, forgings, bronze, concrete, paintings, painted murals, graphics, stone, brick, clay and wood. Common to all of them is that they accentuate the e ect of light in the meeting between people, the human aspect and the material.
There is nothing bland about his expressive style. Everything about it seems to wage battle against precision and pedantry. Yet at the same time he imbues a sort of balance and harmony into the irregular and asymmetrical. This aspect of his artistry may be the reason for his success and popularity in Japan, which still endures today. He referred to it as making the material "live a little". With retrospect, this choice of words seems significant. Much of his life was a fight for survival.
Starting from his early forties, Erik began su ering various diabetes- related ailments. By then he had left Boda and was working as an independent artist. Through his lecture and workshop tours in the United States, he was involved in initiating the contemporary studio glass movement. In collaboration with his wife Ingrid, he carried out public art commissions and worked on design and glass art projects.
Without Ingrid, his artistic work would probably have stopped there. Many people agree about this. She patiently and persistently supported him through blindness, dialysis, a kidney transplant, a brain haemorrhage and leg amputations. Against all the odds, Ingrid helped Erik resume his artistic career.
It was particularly during this period that the boundaries between sculpture, design and painting were broken down. When painting, he often worked with colours and shades to achieve di erent e ects, dimensions and perspectives on the two-dimensional canvas. Sometimes aspects of his paintings seem to find their way into his sculptural works, for instance the glass works of his later years.
In paintings from the farm on Öland island, greys, pinks and yellows reflect the early spring light and the limestone on the great Alvaret plain. He deftly transfers these colours to his glass artworks. His abstract paintings are another example. Sometimes he takes details from his figurative paintings and uses colour combinations in them to create glass sketches.
In the 1990s, these colours were almost impossible to recreate in glass for chemical reasons, as the glass would break on cooling. But in collaboration with skilled glassblowers at the Studioglas Strömbergshyttan studio, Höglund developed ways of creating strong colour combinations and large, advanced applied trails, and Swedish glass took another leap into the future.
One January morning a few weeks before Höglund's 66th birthday, Ingrid had just made co ee when she heard Erik fall down. He had su ered his fifth heart attack while walking to his studio next to the kitchen. For over half a century, he had been a defining figure in Swedish design and art. His style consistently clarified the beauty in balancing light and dark, soft and hard, liquid and solid. Elegant, well-defined shapes swathed in contrasting e ects, often with a hint of mischief and subtle humour.
The Sculpture Project is an initiative by the owners of Byarums Bruk, who had strong ties with Erik Höglund. The friendship between the two families was, and remains, very close. Countless topics have been discussed on summer days at the house Albrunna on Öland island while the children worked on their tree house in the garden. Twenty years after Erik's passing, it seems fitting to celebrate his memory with a cast aluminium relief. The work has a highly personal character and a strong feeling of presence. Its unique shape was originally created in the mid-1960s, but was passed on by Erik to Kenneth Ståhl in 1983.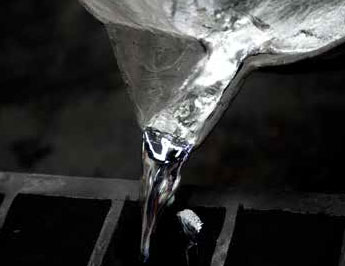 For more information, download our press kit.
Text: Pernilla Hambraeus, Art Historian.