DO-RE-MI by Kjell Engman
Kjell Engman is the third artist, after Ann Wolff and Britt-Ingrid "BIP" Persson, to be commissioned to create a limited edition sculpture in aluminium for The Sculpture Project initiative. Or more correctly in collaboration between The Sculpture Project and Byarums Bruk, since the final casting process took place at the foundry.
The sand casting technique requires great care and imposes certain limits on form and expression. The cast metal, aluminium, determines the colour scale – various shades of grey. This made me wonder how Kjell Engman, whose glass art has always combined a fluid narrative zeal with radiant colour combinations and great richness of detail, would approach this task. But Kjell is an artist who never shies away from challenges. His many years of experience in creating public sculptures in a range of materials also proved an asset. He is commissioned regularly, both at home and abroad, and has exhibited all over the world.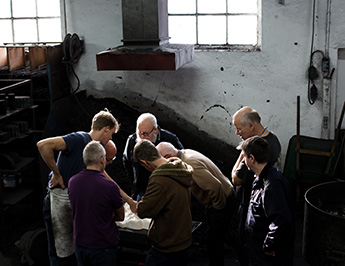 He also has another talent: musicality. Music is in his blood, as they say, a fact that is often revealed in his glass work. And music is the central theme of his sculpture for The Sculpture Project. The name "DO-RE-MI" plainly refers to the first notes of the scale "Do, re, mi, fa, so, la", which choir members sing to warm up their vocal chords, whether they are soprano, alto, tenor, baritone or bass. Kjell Engman has depicted the faces of six choir members, revealing their inner emotions.
This commission gave him reason to return to a material that he has hardly worked with since he left the University College of Arts, Crafts and Design in Stockholm, namely clay. Clay shrinks as it dries, as does plaster of Paris. Kjell was able to draw on his extensive experience of casting in glass. When working in this material you always have to allow for a draft angle, to prevent the piece from sticking in the mould. The same applies when casting aluminium in sand.
Kjell modelled the first examples of "DO-RE-MI" in full scale. Once he was satisfied with the expressions and composition he cast a mould in plaster of Paris, which was then used to make the two-piece mould for casting in aluminium. Only minor adjustments were then required, such as hollowing out the rear of the plaster of Paris mould to make it thinner. The finished "DO-RE-MI" sculpture measures 45 x 60 centimetres.
Kjell Engman drew the six portraits long ago. While he was studying at KV College of Art in Gothenburg in 1972–73 one of his assignments was to draw a group of elderly people who sang in a choir at a home for the elderly. He was fascinated by their expressive faces, which revealed both their individual personalities and the relationships between them. "I've always been interested in people, their behaviour and their expressions," he explains. "In this sculpture the individual facial expressions reflect their inner emotions and their love for, or disinterest in, the person standing next to them in the choir."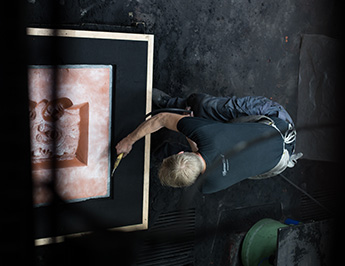 Music has played a central role in Kjell's life ever since he was born, in Stockholm in 1946. His father was a passionate jazz and jitterbug fan, but when the children were born Kjell's mother felt that he should get a proper job. He acquired a hairdressing salon on Bondegatan in Stockholm, but spent most of his time in the storeroom, jamming with a gang of jazz musicians. He then sold the salon and took a job as a salesman with Gulf instead. When Kjell was in his early teens the family moved to Örebro. There, Kjell began playing bass with a group called "Merchants Team".
"I lived a double life," recalls Kjell. "During the day I went to work as a salesman at Facit, with neatly combed hair and wearing a jacket and tie. But when work was over I messed up my hair, pulled on old jeans and was transformed into a pop star." Eventually he decided it was time for a career change. He had started painting and wanted to work with his hands. He thought about applying to the University College of Arts, Crafts and Design in Stockholm, but first he needed to take a foundation course. He ended up at Leksand Folk High School, which specialises in craft and design.
It was the early 1970s and there was growing interest in folk music, among young people too. Kjell met his future wife and they began going to folk dances in Bingsjö. She wanted to train as a teacher of drawing at the University College of Arts, Crafts and Design. Kjell applied to the same college and gained a place in autumn 1973. Their enthusiasm for folk music and folk dancing has never died.
Kjell studied in the department of Glass and Ceramics. During his course he was given the opportunity to get working experience with glass artist Bertil Vallien at Åfors glassworks in 1976. By the end of that year he knew what he wanted to do with his future. He wanted to be a glass artist. This is how Kjell describes it: "It was love at first sight. Glass was something completely new to me. I was totally entranced by its transparency." He got in touch with Erik Rosén, the legendary manager of Boda glassworks, who asked if he would like to come to Boda after he had graduated.
His thesis project at the University College of Arts, Crafts and Design was a large glass wall, based on the folk tune "Natten vid Skvaltkvarn" (Night by the Watermill), written by Wille Thors. Wille then wrote a new tune that he felt better matched the motifs of Kjell's work. The glass wall, which depicts different moods – dawn, midday, dusk and midnight – was bought by the Swedish Social Insurance Agency in Nyköping.
Kjell's first assignment at Boda glassworks in 1978 was to create something new in clear glass: "Something Swedish and popular". The result was "Rhapsody", a spun bowl in glass featuring couples dancing beneath the trees, known as "the Sweden bowl". It was a huge success and generated SEK 24 million in turnover.
He was given a permanent job at Boda glassworks, where Erik Rosén taught him to understand commercial realities. The important thing was that their co-workers had jobs and earned a wage. "As a designer and artist at a glassworks it's not just about achieving personal recognition. You are part of a team; you have a responsibility to ensure that your creations contribute to the survival of the glassworks," stresses Kjell Engman. "What you make has to be saleable."
Kjell Engman remained at Boda glassworks for thirty years. Then he moved to Kosta glassworks. He has been one of the most accessible artists in the world of Swedish art glass. His glassworks pieces and his glass sculptures have found their way into Swedish homes and further afield. His playful absurdity and imagination have fascinated and pleased people around the world. "Can-can", a bowl on a pedestal base, became one of his most widely known creations in the 1990s. For a number of years it was the single biggest-selling glass product in the USA.
Art glass has served as his laboratory for series production and for many glass collections. "The mistakes that happen in the glassworks often lead to the most important and commercially profitable new products." He has described his artistry as follows: "I am driven by the search for the new. Curiosity, mysticism and mythology are important elements."
Kjell's working method is reminiscent of filmmaking or theatre work. "I want to give the viewer the experience of a play, in which the actors are my art work," he relates. "It should involve and interact with the world outside. It should act on multiple senses, such as hearing, touch and sight. Art should be experienced from different perspectives, to give the viewer an integrated experience."
Boda glassworks and Åfors glassworks were both incorporated in the Kosta Boda Group. We have been able to follow the dramatic changes that have taken place at the glassworks over recent decades in the media. The Kosta that exists today has been pruned back hard. Kjell Engman still works for them, but like other designers now on a freelance basis. He spends three days a week at Kosta and works the rest of the time at home on Öland.
Over the years he has produced many public artworks and had the honour of creating several prize trophies for major competitions, including the Swedish Melodifestivalen, the Eurovision Song Contest and Let's Dance. Among his most exciting assignments were his installations at Kosta Boda Art Hotel, where Kjell had a hand in designing the pool area and the glass bar. In the large, oval indoor pool he created underwater exhibitions in fine art glass. In the bar, he again succeeded in creating the impression of being underwater, from the cobalt blue uplit wave-shaped bar, to the billowing blue ceiling above.
Kjell also designed the washbasins for the bathrooms. These were inspired by the pool, so the basins have small ledges, with fish hiding in the corners. When you wash your hands the fish appear to be swimming. Bubbles in the glass make each basin unique.
"It is thrilling to be able to work with methods and materials that have been around since Byarums Bruk was founded in the 1940s," he says of this new commission. The technique has several similarities to casting in glass, but in that case you make the models in wax, not clay and plaster of Paris, as you do here."
How would you describe Kjell's design language? His main interest is in capturing instantaneous movement – the fleeting gesture, the glance and all the shifting emotions that a face can convey. So take a close look at this piece, "DO-RE-MI". It conveys intimacy, drama, joy and hope. Like life itself, it is a chorus of emotions.
For more information, download our press kit.
Text: Kerstin Wickman, Professor Emeritus in Design and Craft History.